About
Dedicated to our son Jack who was diagnosed with Coats Disease in 2006, the Jack McGovern Coats Disease Foundation is an effort to increase awareness about Coats Disease and other forms of childhood blindness, raise money to fund new research, and cultivate a community of patients, parents, and medical professionals for support. Our goal is to fund important research and, in the meantime, to help all those affected. We invite you to participate in any way that you can, and we hope you find the resources and support you need from our foundation. – Ed and Tina McGovern, JMCDF Founders.
Click on the image below to download our brochure: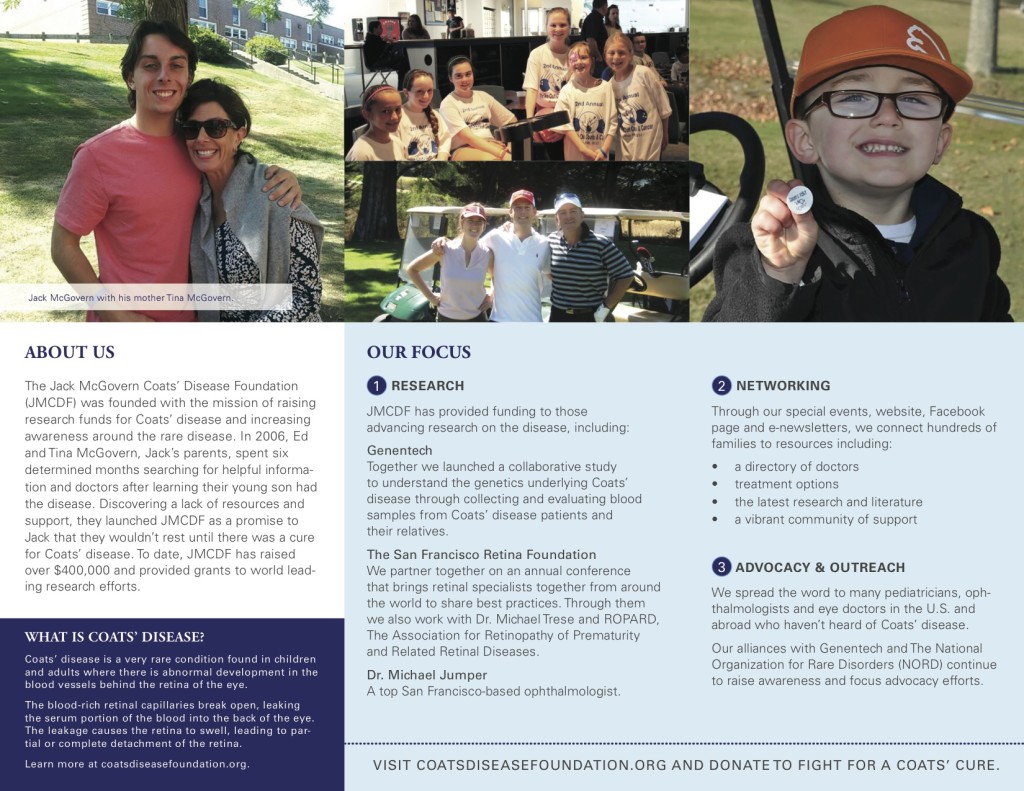 Mission
JMCDF was founded in 2006 by the parents of Jack McGovern as a promise to their son that they would never rest until there was a cure for Coats disease. To this end, the foundation was started to raise funds in support of ongoing research designed not only to support ongoing research to restore Jack's vision, but also to offer all children like Jack hope as they wage a lifelong battle against Coats disease and blindness.
Fundraising
JMCDF raises funds in multiple ways, the biggest event being the Annual Golf Tournament. Donations are accepted year round online, or via phone by contacting us directly.
Click to download: IRS INFORMATIONAL RETURN
Board of Directors
We are deeply grateful to the JMCDF Board of Directors, who volunteer their time and expertise to advance the mission of the foundation.
Advisory Board Members

Michael Jumper, M.D.
ME Hartnett, M.D.
Karen Franklin
Elke Bach Gibbs
Nancy Garrett-Payton
Bill Vaughn
Brian McGovern
Research Advisory Council - Doctors to be added soon